Valentine's Day is quickly approaching, and whether you have a special valentine or like to celebrate your own version of Galentine's, there's plenty to do around St. Louis this Valentine's Day weekend. We thought we would share some Valentine's Day events going on here in our city for you and your loves to enjoy!
Ted Drewes
- For those of you born and raised in good ol' STL, Ted Drewes is most likely your favorite frozen custard. Although it is closed for the winter time, it opens just in time for Valentine's Day, so enjoy one of your favorite frozen custard treats, or get into the holiday spirit and get a Cardinal Sin Sundae topped with cherries and hot fudge or a Strawberry Shortcake Sundae!
Run for the Chocolate
- For those of you who enjoy running, this 5K could not be sweeter, literally! After you have accomplished the remarkable task of completing a 5K, you get to reward yourself by indulging in chocolate! Once you cross the finish line, you'll be rewarded a goodie bag of Bissinger's chocolate. If you can't make up your mind, you have up until race day to register! Don't miss out!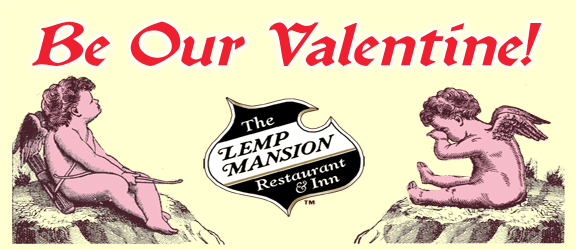 Lemp Mansion
- Lemp Mansion is having a special Valentine's Day dinner for two for those lovebirds who enjoy romantic evenings in a historic home with beautiful vintage decor.

Botanical Gardens Orchid Show
- The Missouri Botanical Gardens' annual orchid show draws large crowds during the Valentine's Day season. If you love flowers, florals, and especially orchids, be sure to stop by Botanical Gardens and be swept away by their exquisite collection or orchids.
Valentine's Night Hike at Shaw Nature Reserve
- For you nature-loving, night owls, this would be the perfect way to spend your Valentine's Day. This Friday, Shaw Nature Reserve is hosting a Valentine's Night Hike where you can enjoy a romantic evening of star gazing and enjoying hot chocolate with your Valentine. Be sure to register in advance!
What do you have planned for Valentine's Day??